In the US, 80 percent of the population will suffer from back pain at some point according to the American Chiropractic Association.
Over time, sitting too long at my desk, combined with a bit of stress in my life at times meant my back suffered.
While my other half tried every possible alternative to reduce his upper back pain, the Chirp Wheel was one of the more convenient and effective tools that worked.
In this Chirp Wheel review, we've explained what it is, what it does and whether it works. Spoiler alert – it does.
Disclaimer: We may be compensated for purchases made from links on this site without affecting the price to the purchaser.
The 3 Chirp Wheel pack is currently available and comes with a free back posture corrector. Then there is the "Ultimate Back Pain Bundle".
But wait! There's more…
There is a new wheel in the mix to add to the 12″, 10″ and 6″ wheels. The 4″ Focus is even more targeted. Great for the neck and deep back massage.
Of course, each of the sizes are available separately but first –
Does the Chirp Wheel Work?
Along with 80% of the US population, I've had a history of bad backs, although it's fair to say, much less these days.
I still get back pain specifically, aches on either side of my spine just below the shoulder blades.
I used the 12″ Chirp Wheel to get a broader range of massage but with less intensity on the upper back. I was lying on it, so using my full body weight for maximum back pain relief.
Haven't got it yet but I will be looking forward to neck relief with the new 4″ wheel.
It was the perfect solution to a problem I'd had for as long as I can remember bringing back pain relief to a frustratingly impossible area to get any satisfying pressure to.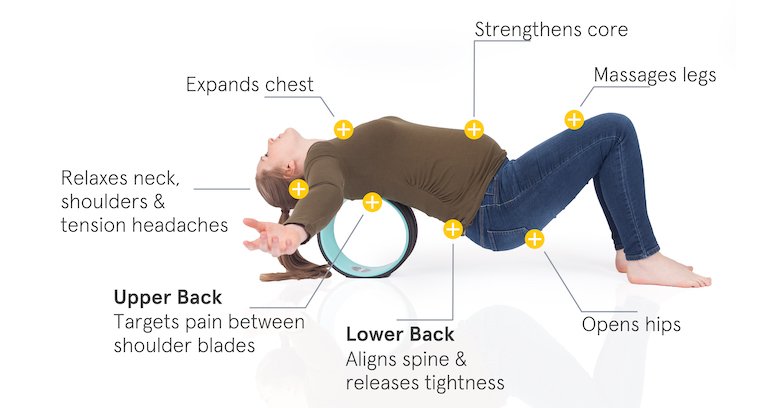 Years ago, when living in Australia I used to go regularly to the chiropractor for spinal decompression therapy when hanging from a door just wasn't doing it for me anymore.
And it got better after time. Steadily after 25 or so visits the continuous act of releasing the pressure within the intervertebral discs around the soft tissue of the spine joints did the trick.
This causes each disc affected to rehydrate and this helps with pain thresholds and ultimately the body's natural healing.
But that was my problem a few years ago when there was nothing like the Chirp Wheel around. As you might have guessed I took an interest in the complexities of the back but I'm no expert.
As I said my pain discomfort improved and lasted for some years but the same sort of pain returned to bring back bad memories so I discovered foam rollers.
They didn't really hit the spot. But the Chirp Wheel, previously known as the Plexus wheel proved to not only bring relief but back pain relief was effortless and quick.
Most other people like myself have reported using all 3 sizes of Chirp Wheels and in the vast majority of cases, the reaction was positive and a confirmation of the product's efficacy.
I have seen and heard other Chirp Wheel reviews from hardened back sufferers who have found benefits by using a wall to slide up and down on a Chirp Wheel. (Great workout for the quads and glutes too).
Although using the Chirp Wheel regularly is a great alternative to visiting the chiropractor I still have a not of faith in the professionals although I haven't been for a while.
Some chiropractors even recommend the daily use of Chirp Wheels between their sessions.
If you think you've tried everything, then this contraption might be worth a go. The Chirp Wheel includes patented technology and design to ensure effectiveness and comfort. It's perfectly suited for anyone searching for a solution to stretch their back muscles.
A Chirp Wheel Review – Things to Know
Before getting your Chirp Wheel or yoga wheel, there are a few things to consider. But before that, if you're asking yourself what is the difference between the Chirp and Yoga wheel, we have covered that here.
1. If there was one major complaint amongst buyers or potential buyers it was the price. For what the Chirp Wheel is, basically a compression sensitive mat wrapped around a stiff ring with a groove down the middle, it's expensive.
And so it is. I'm not going to put up a big case against the cost of the Chirp Wheel, however…
…Chirp Wheels will last forever and if for some reason they don't, they'll be replaced. And I know it's standard but if they don't work for you there is a refund process within 60 days.
2. By rolling the Chirp Wheel between your shoulder blades and along your back, it releases tension and provides a deep tissue massage. Unlike other lower-priced products, the Chirp Wheel is ergonomically designed to fit around your spine with no discomfort. The central grooved design of the Chirp Wheel is a patented technology.
The action stretches the smaller muscles around the spine. Muscles with normal wear and daily "misuse" can be subject to myofascial (connective muscle tissue) pain. Myofascial release is a method of relieving discomfort through gentle pressure and stretching.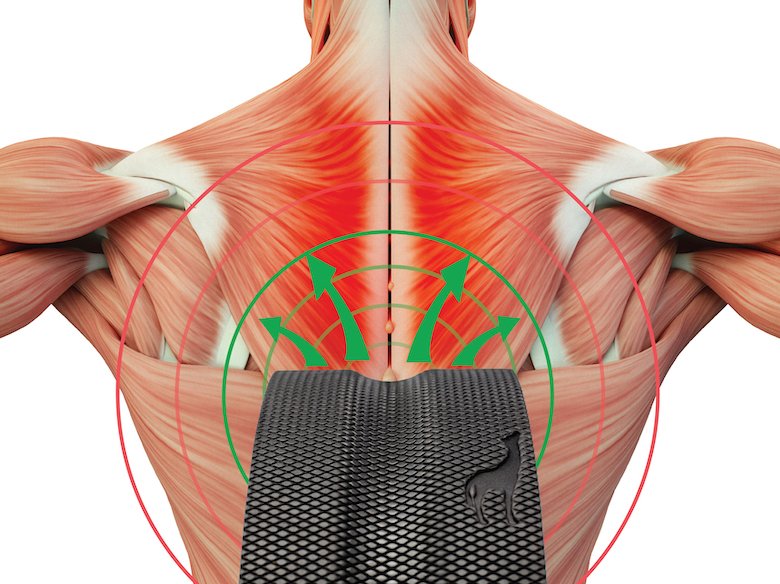 3. You'll want to decide on which size of Chirp Wheel you need, both in diameter and width. Then, do you need a deep deep massage (4″), a deep tissue massage (6″), a firm one (10″), a more gentle and relaxing one (12″).
4. There is another option – the ultimate back pain bundle. If you purchase the Chirp Wheel Ultimate Back Pain Bundle, you'll receive three wheels of different sizes (6″,10″,12″), a carry bag and a back posture corrector to wear between your wheel sessions. This is the best deal.
5. There are many foam rollers available that purport to get similar results to the Chirp Wheel although (and I haven't tried them all) they are generally less targeted in the muscles around the spine.
Although the back roller's material is usually very dense the designs are broader and so less effective at zoning in on those aches and pains especially when you reach midlife.
Pros:
FDA approved.
Free shipping.
500 lb supported weight limit.
Ergonomic patented design.
Relief within five minutes.
Suitable for all ages and sizes.
The ultimate pack comes with useful accessories.
Cons:
Requires more storage space than a foam roller but not much.
Pricey.
The Company Behind the Chirp Wheel
Originally the company and the one product to its name was Plexus or the Plexus Wheel or even more fully the Plexus Pain Relief Wheel.
I thought Plexus Wheel had quite a catchy sound to it but perhaps there are just too many "Plexesus" around.
The "zany" crew behind the Chirp Wheel were in the yoga market. Finding a mat material that didn't compress badly under pressure was the first stage in pleasing a need for a back pain relief product from the people they spoke to.
Wrapping the material around a very hard, strong but light injection-molded ring construction and then getting patented a furrow down the middle as a channel for the spine ended becoming the end product – the Chirp Wheel.
It resulted out of a Kickstarter program that began July 2018 and the product began shipping in October 2018.
After which, as many people saw on tv, the founder Tate Stock got additional backing in the Shark Tank from Lori Greiner after sales of the product were very healthy.
It seems that under the new Chirp Wheel branding further pain relief type of products can more easily be added.
What the Chirp Wheel is designed for
The Chirp Wheels (formerly known as Plexus) are back rollers designed to release back tension and relax tight muscles and ultimately relieve back pain.
I say "wheels" as there are now 4 different sizes 4″, 6″, 10″ and 12″ which you can buy individually or as a deal.
The larger wheels exert pressure on the upper and lower back through your own body weight as you lie on the Chirp Wheel and move back and forward.
The latest edition to the set is the 4″ wheel which can be used on the back for the deepest knots in the back but is best for tension relief in the neck and shoulders plus the arms and legs.
The traction aimed around the spine should help relieve back pain and discomfort from back issues like pinched nerves, bulging discs, or simply stiffness from the tribulations of the day.
There is no doubt, that parts of our bodies are some of the trickiest areas to get to afford any back pain relief either by stretching or massaging.
How to use the Chirp Wheel
How to Mount the Chirp Wheel
---
Chirp Wheel Review – Features and Benefits
User-Friendly
You'll be able to use the Chirp Wheel right out of the box to use as a back roller and administer a deep tissue massage to places hard to reach. Although it's intuitive, the package includes instructions and an ebook. Browse through the 120 various tips and stretches to obtain the best results.
Using the Chirp Wheel initially might feel awkward but once you get the hang of mounting it, it's straightforward.
I love the good grip that the Chirp Wheels have. If you're a bit wobbly it helps to stay balanced and prevents the tool from sliding sideways.
If you don't feel comfortable on the floor, you can roll it over a wall or even a chair—whatever suits you best.
Compact
The Chirp Wheel Ultimate Back Pain Pack comes with three wheels that fit into each other for neat storage. Some users even bring the smallest ring (the 6″) to work to roll it against their office chair.
The included carry bag is a nice addition for carrying it around. Wear it in a messenger style, and off you go.
Suitable for Everyone
When I first saw the Chirp Wheel, my first impression was that it would crack and deform under my husband's weight.
It can bear up to 500 pounds. And because it doesn't contain PVC, it shouldn't crack. If you have any doubts about when the Chirp Wheel arrives, or if something doesn't go as expected, the product is backed up with a 60-day money-back guarantee.
In addition, the Chirp Wheel is suitable for every age. You don't need to be 20 years old and a yoga addict to use it. It's recommended for any individual up to 75 years old – although that's a fairly arbitrary age.
Lastly, each Chirp Wheel provides different results and sensations. For instance, the latest and smallest one—4 inches—is designed for deep tissue massage, especially on the neck and limbs and should relax the tightest muscles.
I didn't like trying to use the smaller wheels on the lower back. Because it's narrow, your body weight puts more pressure on a smaller area and can make lower back pain worse.
I like to use the 12″ Chirp Wheel on the upper back but it's suitable for the lower back too.
Improves Quality of Life
What I love the most about the Chirp Wheel is its efficiency and simplicity when it comes to back pain relief. It's quick and easy to do 5 minutes of stretching at any time of the day. For me, the Chirp Wheel gave some instant relief whilst other users maintained it had more profound benefits over time.
Depending on your condition you don't need to use it for six months before noticing the effects. You may already feel the benefits after only five minutes of use.
By rolling it between your shoulder blades and your lower back, you can feel your muscles gradually stretch and relax. It'll relieve tension headaches, shoulder, and neck pain. You should even get better sleep.
Ergonomically Designed
The positive effects mentioned above are the result of a well-engineered wheel that includes unique technologies.
The Chirp Wheels come with a Compression Sensitive™ feature to ensure it's comfortable when rolling on it. Plus, it also has a Patented Spinal Canal™ that allows a four-way stretch for optimum relaxation.
Finally, you'll notice a curve toward the center of the surface. This is to prevent putting pressure directly on the spinal cord.
Back Posture Corrector
The Chirp Wheel brand cares about relief from your back pain and pain relief in general. Not only should the wheel provide a significant release, but in the ultimate and 3 Chirp Wheel bundle, the manufacturer also includes a free back posture corrector.
You should now feel supported physically both during your rolling sessions and in between.
To be honest the upper back posture corrector is a rather simple affair like a backpack without the back bit but it's a nice addition.
Social Proof & Chirp Wheel Reviews
Apart from our take on the Chirp Wheel, very many online Chirp Wheel reviews are positive, confirming that people are thrilled about this product and wondered how they didn't know about it before.
Even military men rave about the Chirp Wheels' results. Plus, many users are surprised by this product's high quality.
Most wished they'd bought, at least the 3-wheel pack earlier.
Back Massage & Tools Available
The Chirp Wheel or foam roller technology is one way of relieving back pain and other bodily aches. Other ways are with handheld massagers which can normally reach those out-of-the-way places.
And for really getting aggressive with those knots percussion gun massagers can give an excellent deep tissue massage and might be the solution. Although such solutions can still be less easy to manipulate along the back than a Chirp Wheel.
For more on taking control of aches and back pain relief read our article on self-massage tools.
The Chirp Wheel with its 4 width options can provide and light or deep tissue massage.
Chirp Wheel Review – A Conclusion
The Chirp Wheel fits perfectly around the spinal column. Roll it back and forth to push, stretch and relax your back muscles.
The alleviated tension should ameliorate disturbed sleep patterns and ease tension headaches, I know it's helped mine.
I hope this Chirp Wheel review will be useful in determining whether to give it a go.
For more details on back pain relief using the Chirp Wheel+ and a look at the Ultimate Back Pain Bundle, helpful (light-hearted) videos, visit the Chirp Wheel website.