Staying fit at home is challenging for even the most productive among us, and it's okay to wonder if multi-functional training tools are the way to go.
The LIT Method is a company that tackles the issues of fitness accessibility, and Jay Z seems to be on board with the dynamic. After all, he did invest in the venture, but is it the right fit for you?
LIT stands for Low Impact Training. And anything to help us over 50s get fit using low-impact machines always piques our interest. We have an article devoted to low-impact cardio machines.
Let's jump right in with a conclusive LIT Method review and check out their signature product the LIT Strength Machine.
Things to Consider Before Buying a Multi-Functional Training Machine
Multi-functional machines like the LIT Strength Machine replace the need for several setups and visits to the gym. They're a good fit for someone who's looking to push their fitness at home.
Alternatively, if you only practice one or two exercises, you might be better off buying separate gear for each one and calling it a day.
Before you consider getting one, ask yourself:
Do I have the space for it?
Is my workout routine open to more versatility?
Do I even like training at home?
Will rowing

hurt my back

?
Will I make use of all the features?
LIT Strength Machine: Overview
The LIT Strength Machine is a rower and Pilates reformer that promises 500 different exercises at home. The number might seem like a stretch, but it gets more realistic when you consider the different angles for each workout category.
The essence of the LIT Strength Machine is that it's a low-impact, water-resistance rowing machine and relatively light on the back. The variable resistance of 10 to 40 lbs comes from the dual water tank.
Add on the resistance bands which loop around both sides of the handle giving more resistance whilst rowing, strengthening the arms and the core. The resistance bands (20 lbs) and even more powerful "power bands" (45 lbs) are also used for strength exercises, not using the rower.
The water is self-contained and doesn't need changing. You add a chlorine tablet once a year which is supplied – a lifetime amount.
Usefully the LIT Strength Machine, being based on a rowing machine, has the design features already built in to accommodate the functionality of a Pilates reformer. The Pilates reformer is a sprung carriage with pulleys and bands so it hasn't taken much tweaking to incorporate the rowing and Pilates into the single machine.
For the top of the range "Performance" LIT Strength Machine, you get the following: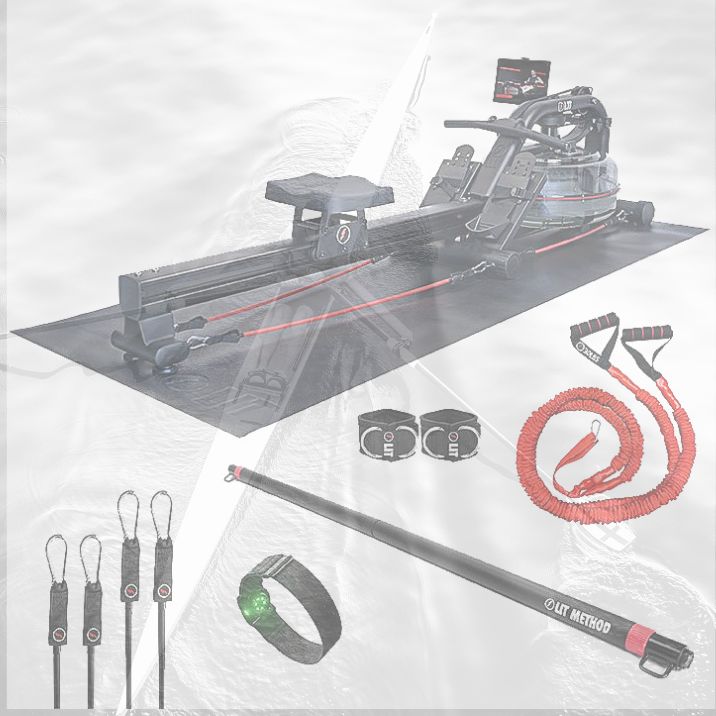 20lbs Standard Set of Resistance Bands
2X Handles
Tablet Attachment
2X Ankle Cuffs
Free Shipping ($250 value)
Free 3-Month Membership to LIT On-demand
Strength Bar
45lb Power Bands Set
30lb Speed Bands
Heart Rate Sensor
Machine Mat
There are 2 other grades of Strength Machine and the names keep changing depending on the promotion type the company is using but for the most basic (currently called "Starter") which is not the cheapest you don't get the Strength Bar and everything below that in our image above.
For the middle of the range you don't get the Heart Rate Sensor or the Machine Mat and not only is this machine (currently "Summer") the cheapest it's also currently a good $400 cheaper than the "Performance".
That means you could be paying that for a machine mat and heart rate sensor.
You might find it useful if you like rowing but can't take the time for trips to the open waters. For me, it's also easier on the feet than on a conventional rowing boat.
The LIT Strength Machine should be, of course, put in the same category as home rowing machines and even more tightly into the even sub-category of water rowers.
It might not be ideal for people looking to get in shape on a budget.
The LIT Method APP
An important part of the whole LIT Method, LIT Strength Machine system is the app which is a subscription-paid service although it is still optional.
Even for me, a certified PT, needed some guidance on how to take full advantage of the myriad of activities that can be performed with the LIT machine.
There is a 3-month free trial offer on the subscription that starts after you receive the machine – delivered free, by the way. Then you can pay monthly £25 or yearly which works out to $20 a month ($240 upfront).
The app does have a variety of quality classes consisting of not only the LIT Strength Machine workouts but also some categories that don't even use the equipment like the abs workout section and "mindfulness" which I don't get.
But, there are 8+ categories and they do cover, what you might expect from multi-functional, multi-exercise fitness equipment of this type, strength, cardio, rowing and resistance.
Pros:
Versatile training modes between pilates, rowing, and resistance
Handles up to 450lbs
Arrives partially assembled
You can store it vertically to save space
Gives you a free first 3-month trial for the LIT Mobile App
Cons:
Doesn't track your workout metrics
Expensive
LIT Strength Machine: Top Features
To really judge the multi-functional tool, let's break it down to its main features:
Low-Noise Rower
While you do need water for the rower, you can control the intensity level with a numbered dial. Plus, it also runs on a belt drive, which I find less noisy than chains.
Versatile Pilates Reformer
Asides from rowing, you can use the machine as a reformer carriage for pilates sessions with or without the resistance bands. While there's no particular evidence to back the machine itself, we do know that pilates can help improve balance.
Detachable Resistance Bands
To tackle strength workouts without weights, LIT Method makes use of resistance bands to target different muscles in the arms and legs. You can also use the strength bar to do chest presses, back squats, and trunk rotations.
LIT Strength Machine: Alternatives
Let's take a look at how the alternatives compare to the LIT Strength Machine:
Super smart complete home gym system
Suitable for cardio, yoga, and strength workouts
Not rower-based
Tracks your workouts and provides personalized programs
Suitable for rowing exercises only
The most acclaimed indoor rowing machine
Runs on a chain belt that could be noisy
Tracks your workouts
The Takeaway
All in all, the LIT Method Strength Machine is a great indoor water rower, but it also happens to be a highly versatile tool for pilates and strength workouts.
Head to the LIT Method website for even more details and specs!