As hiking shoes go these Merrells Moab 2s might not be the best but they're certainly great value and do the job for not-too-serious hikers, walkers and anyone that likes the feel of comfort and extra support from their footwear.
If you choose to purchase any of the products we have discussed or reviewed in this article, we may receive a small commission with no additional cost to you but hopefully will help us continue.
The footwear reviewed is Merrell Men's Moab 2 GTX Walking Shoe. I got mine in navy blue just to make a change.
A robust comfortable and supportive walking shoe with devoted fans but a trail running shoe they aren't.
In fact, I wouldn't run in anything that was called a walking or hiking shoe.
For this Merrell Moab review I chose the waterproof version of the walking shoes. The non-waterproof version is cheaper naturally, but not by that much.
Shoe Build
I've always been pleased with the way that Merrell puts their shoes together. My last pair of Moab 2 lasted many trips over rough terrain and I detailed their longevity.
They did lose some integrity in the upper stitching at the toe box and finally succumbed to my over supinating feet on the edge of the Vibram outsole.
Durability
These new Moab 2 shoes look equally well-made with strong outer mesh panels, double stitched toe panels and a solid as-ever outsole connection to the all-leather upper.
After a month of extensive use across all surfaces, hiking, rambling and walking (I've even used them in the gym), there is little degradation to any part of the shoes.
Weight
Merrell shoes tend to be heavier than comparable makes but lightweight shoes often lose the good ankle support and heel support that you get with the weightier walking shoe.
My Merrell Moab 2 shoes are size 9 1/2 and come in at just over 2lb. Compare that to Skechers, for instance, which are almost half the weight.
Traction
The Merrell Moab 2 has the normal convoluted series of grooves, lugs and swirls which provide adequate traction.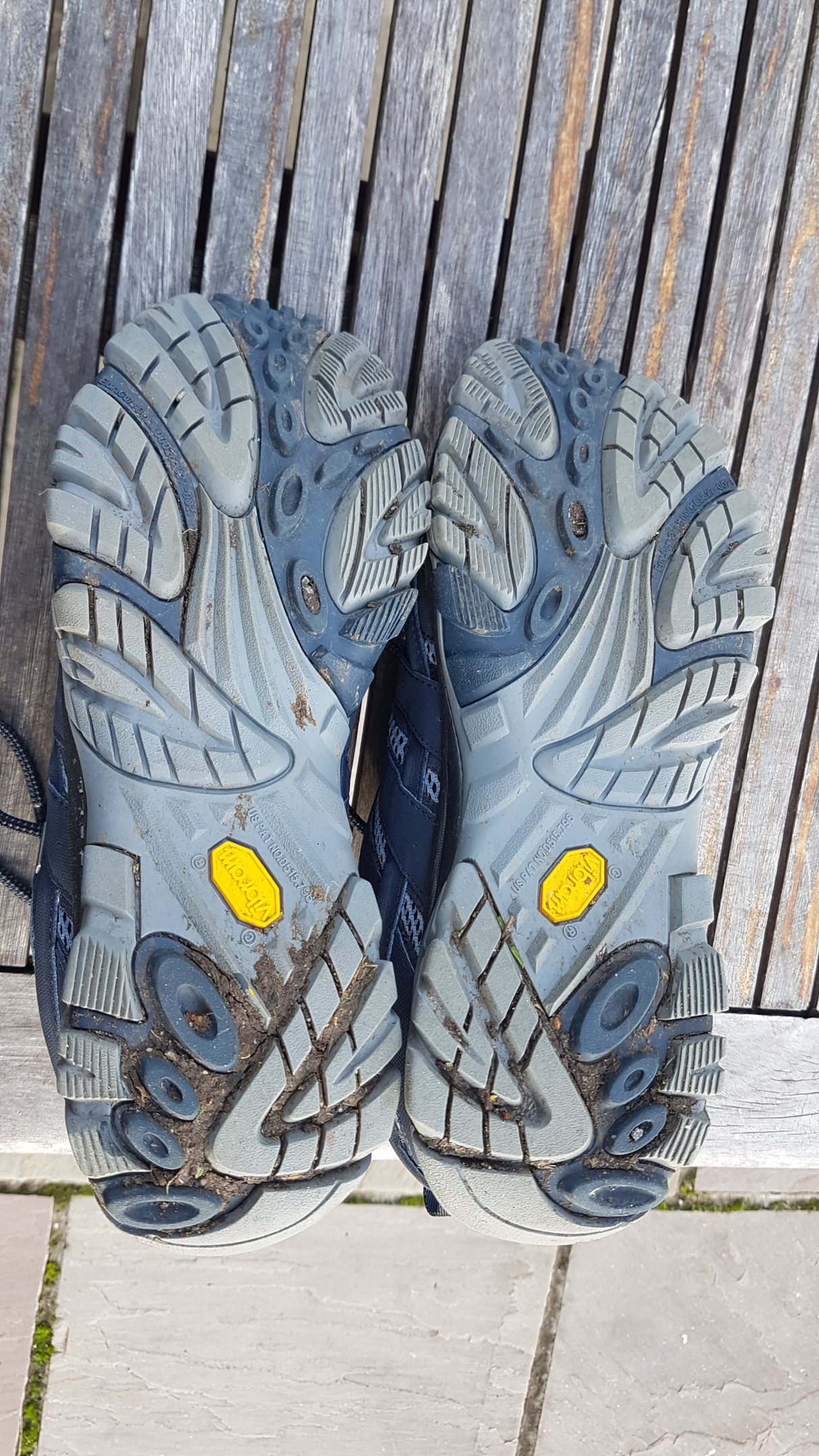 Initially, on testing the hiking shoes we found them to be less sure when going downhill over a knobbly surface and felt like we were putting the breaks on adding pressure to the lower leg and knees. A possible danger of plantar fasciitis?
However, they were good on sticky and uneven terrain.
Breathability
The Moab 2's are well kitted out with breathable mesh panels and we found no distance with breathability between these waterproof shoes and the version that wasn't waterproof. Very good.
The mesh on the uppers tends to be a weak link in terms of durability but as we can attest this was not the case with the Merrell Moab.
A group of us walking up from the beach to Nicodemus Knob experienced no hot feet.
Comfort
I was impressed, as always, with the comfort of the shoe as soon as I put them on. I even look forward to being surrounded by excellent cushioned support.
But wait what's this? There is a small change to the collar and tongue.
There is a pronounced fold that, in the first few times of wearing them, sticks into the top of the foot. However, just easing the fold down to the outside was all it needed and soon it stayed there.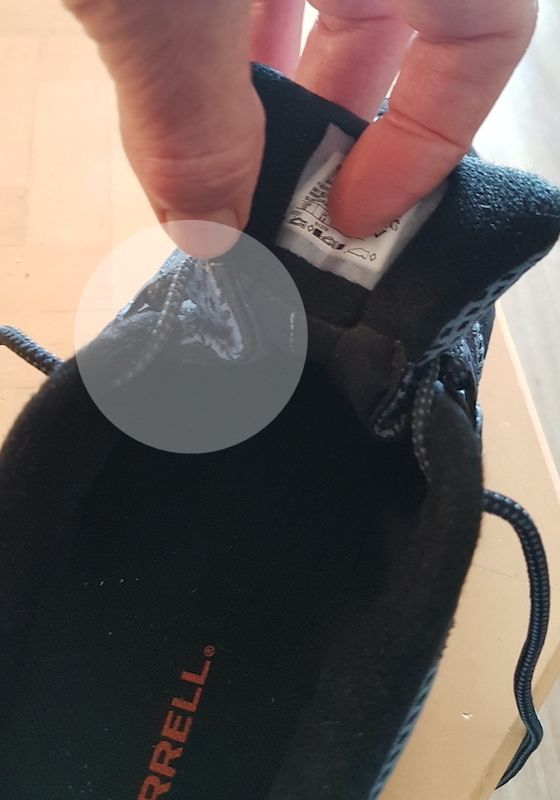 I just checked with the Merrell Moab shoe specification and this new design is the "tongue bellows" there to stop dirt from getting in. Hmm, the jury is out on that one.
Another change is to the insole which often looks like a bit of an afterthought in other models of walking or running shoes. With these Merrell Moab 2 shoes, you get a decent supportive shape with good arch support and holes for breathability.
Support
The outsole on the Moab 2 like other Merrell models has always felt solid. Because of the good traction, good ankle support and underfoot protection, you can't always "feel" the right connection with the ground you're walking on whether it's a pebbly shore or a rocky terrain.
I guess this is the difference between a good trail shoe, which this is and trail runners (which these aren't).
Stability
One of my least favorite things is turning an ankle whilst running or walking especially when you're in the depths of the wilderness.
You want to avoid ankle rolls at all costs so hiking shoes should be built stable enough to lessen the chances. With trail runners, it's a different matter where you're sacrificing support and stability for the sake of flexibility.
The nylon arch shanks give, what I think is the correct amount of lateral torsion. And air cushioning at the heel adds more stability and comfort.
I have never sprained an ankle in Merrell shoes or Merrell boots although plenty of times in trail running shoes.
Fit & Sizing
The Moab 2 doesn't have an overly large toe box but it suits a normal foot. I take a 9.5 which is 10 in the US and they have always been the perfect fit – all ready to go.
Whether I'm just lucky with footwear sizing, I don't know, but I rarely get blisters or toe cap discomfort from walking shoes and especially Merrells.
Waterproof
The thing is, there are levels of waterproofing and I would say that the Vibram outsole does its job. And the waterproof lining on these Goretex shoes keeps you dry under normal conditions but you're still likely to end up with wet feet if you go wading in streams.
For regular use on wet ground, in wet grass, we kept our feet dry.
What we liked about the Merrell Moab 2 Hiking Shoe
Reliable and versatile walking shoes that will last a long time.
Merrell hiking shoes are great value.
Excellent comfort from the stiff torsion in the length of the shoe and air cushioning in the heel absorbing shock and adding stability.
What was not so good about the Merrell Moab 2
Quite heavy and not great for long treks with a heavy pack.
Traction is not great downhill.
Other Merrell Shoes
I must admit I've been a bit of a fan of Merrell sporting footwear for a while now. Fortunately, they have many models and styles of shoes for different feet and different occasions.
I've picked just 3 more models that aren't too radically different from the Moab.
The newer model of the Moab series is still a comfortable shoe. Naturally a good deal more expensive. The main differences being the laces system and mesh uppers are 100% recycled.
Changes to the material in the midsole and heel that appears to be more cushioned and has shaved some ounces off the overweight of the shoe.
Like the Moab 2, the Moab 3 hiking shoe can be waterproof or not lined.
Same weight and feel as the Moab 2 reviewed above but not waterproof.
The MQM Flex 2 is a lightweight shoe and are suited to trail running as well as hiking. As the name suggests it more flexible, across and along the plain.
Great for more technical hiking. Not so great for overall support and comfort.
For durability, we think the Vibram is a better choice for outsoles than the Merrells. These are not Vibram.
Still the Merrell comfort out of the box but a horrible plastic-y finish to the uppers and the mesh.
Compared to Other Brands of Walking Shoes
Like the Merrell Flex 2 the Salomon X Ultra is gets you moving over challenging hikes.
The waterproof version did not "breath" well. The untreated Ultra 4's were breathable.
We liked the traction. We didn't like the high rise design of the shoe – liable to cause friction sores. A change from the Ultra 3.
This isn't the waterproof version but there is one called "B-Dry" and it has as good a breathability quality as the non-waterproof version.
We liked the look and feel of this Oboz Sawtooth hiking shoe – comfortable once broken in. Good arch support but not as overall supportive as the Moab 2.
They are lightweight and according to other reviewers are very durable – we haven't had ours long enough.
All-in-all, a quality finish but they are a bit pricey.
These are about half the weight of the Moabs and are super comfortable with their great use of memory foam. And they look good.
Okay, not recommended for anything but the most casual of hiking but excellent quality for what they are and a good price.
Price Comparison
If you choose to purchase any of the products we have discussed or reviewed in this article, we may receive a small commission with no additional cost to you but hopefully will help us continue.
Check the best current prices for the Merrell Men's Moab 2 GTX Walking Shoe on