When it comes to training shoes vs running shoes vs walking shoes, different physical activities call for the right athletic shoes for the job.
Unlike what the shoe manufacturing marketing juggernaut might say though, there is some crossover of use between shoes for different activities. It is not necessary to buy a pair of sneakers for every single type of physical endeavor.
However, the more serious and specific you get about your activity the more important it is to have the correct shoes for the job.
Athletic shoe design
Trainers
Sneakers or cross-trainers are a more general design for physical activity and therefore provide support both laterally across the foot and from heel to toe. They have less flexibility across the sole normally with a strong outsole and are generally a flatter design.
Trainers have traction in the sole but the plain design giving more freedom of movement across the 'floor' – less stick than with a running shoe.
Activities for cross-trainers
Training shoes are most suitable for general gym activity, aerobic workout routines, strength training and low impact exercises. For any specialist activity like weightlifting, yoga, boxing etc. there are other specific shoes designed for the activity.
Being multi-functional they provide enough targeted support to be used for many different activities including walking and running but only in small doses.
Running shoes
Running shoes have more cushioning because of the nature of the continuous high impact motion, three times more than walking. This extra protection is mainly in the heel and midsole area providing stability from heel to toe.
They have a high degree of flexibility in the midsole mirroring the running action of the foot.
Running shoe makers have different designs for different types of runners. One of the main differences is in the elevation of the heel compared with the toe called the drop.
A common drop is 4 mil although for overpronators (someone with flat feet or high arches) a runner may choose a drop of as much as 8 mils.
Activities for running shoes
Running shoes, of course, best for running. And for any, even, semi-serious running a proper shoe is the only choice.
The flatter the shoe (see drop above) the more suitable the shoe maybe for other activities that don't require a lot of support in lateral movement.
Sole designs on running shoes are often a complicated affair with proprietary shapes and grooves to provide traction, grip etc. This might also make them unsuitable for activities where you don't want the rubber sticking to the floor.
Walking shoes
As, by definition, there is always one foot on the ground when walking it's a low impact activity so less cushioning is required both in the heel and up to the front. This means the shoe can be light.
Walkers push off with their toe so in imitation of the walking action, the flexibility in the shoe is located in the forefoot rather than the midsole or arch area as in the running shoe.
Activity
Like all shoes worn during physical activity it's the ones you feel most comfortable in that is important.
Some running shoes are minimalist designed that have little cushioning. That being the case it would make sense if that was suitable then a walking shoe could be used for running although I would recommend not for serious distances or intensity.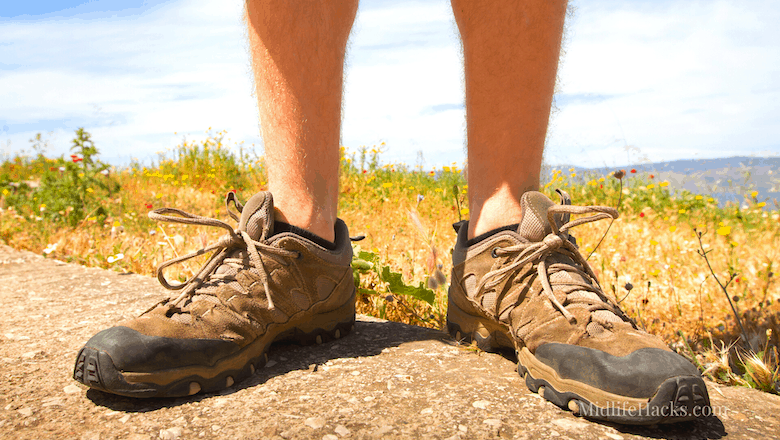 Comfort is key for walking longer distances. And across variable terrain stability and the inflexibility of the sole might be a consideration.
Wearing the wrong type of shoes
Injuries
More serious running without the cushioning of a running shoe can lead to short and long term problems with all the lower joints of the body due to the high impact of running.
We've covered the best shoes for shin splints as well as shoes for heel spurs.
Injuries can be born from wearing shoes inappropriate to the gait you have. Many athletic shoe stores have specialist areas where you can check your gait using a treadmill and a trace of your running or walking pattern.
Using running shoes for exercise workouts and similar activities can cause the wearer to move awkwardly, lose fluidity and trip, due to the lack of 'feel' in the foot.
Discomfort
If your feet don't feel anything less than if you're wearing the finest kid gloves then you'll not enjoy whatever activity your doing and that could spoil the whole exercise experience.
The shoe's uppers may need to be breathable and water-resistant if exercising outside.
The toe should offer enough wriggle room for comfort. For prolonged activity feet may well swell so take that into consideration when choosing a shoe.
Uneven athletic shoe wear
Semi worn shoes can leave clues as to your gait. The outer sole may show excess wear where the foot strike occurs. At best this may mean you need to change your shoes more often than might be expected.
At worst you may have the wrong shoes for your particular activity, whether it's walking, running or any other exercise.
Note for runners & walkers
Get your gait checked to confirm to what degree you naturally pronate when running. Pronation is the level to which you roll your foot from the foot strike (heel), then from out to in ending with pressure evenly spread across the forefoot.
The extreme of overpronation is flat feet which can be negated with specific running or walking shoes. For under pronators (supinate) get neutral running shoes and visit a podiatrist to have made a bespoke pair of inserts for use with your shoes.
I was getting a lot of pain in my right foot and was aware that I was constantly walking/running on the outside of my foot which didn't seem right.
I went to an orthodontist who measured me for some orthotics (shoe inserts) and who assured me that the best way to deal with an over supinating gait (under pronation) was to wear a neutral shoe and use properly fitted inserts. So I believe that searching for shoes for supinating is unnecessary and probably a bad idea.
The type of sneakers we wear
My site co-editor and co-creator, Penny and I had a number of discussions on how we viewed our selection of shoes for different activities. First we had to define the activities or, as it turned out, define the times we wear which shoes. That happened to be a more revealing question.
We are in the over 50s club and so we took ourselves back to when I was running marathons and training 50 miles plus a week and when Penny was full time running gym classes of all types as well as one on one personal training.
An overview of the type of athletic shoes we wore is…
Casual
When wearing shoes at all we, almost totally, wore some sort of sports shoe. For me, the exceptions were when work necessitated the donning of a suit otherwise we would both wear sneakers for general informal wear – well they are really comfortable.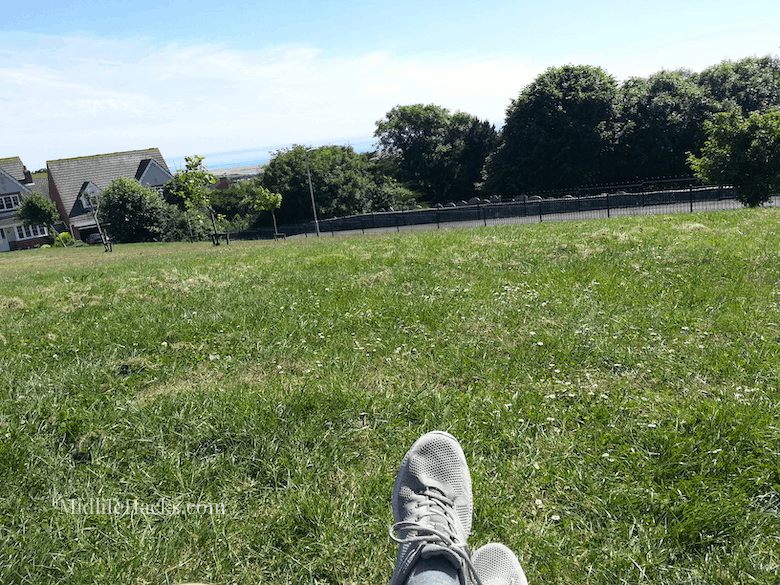 And generally, our choice for casual wear would be an all-round gym shoe good for most activities without any specialty towards any particular one. Being a bit of a slob I would tend towards wearing my running shoes that had had their day but still presentable enough.
Shoes for runs
Training and competitive runs, always running shoes. Two of our top choice brands are Asics and Brooks although we have both gone through many popular models from the best sports shoe brands.
I would use the same running shoe whether it was a trail, long and steady or competition run although always with 2 pairs rotating, one being more prominently used.
Keen runners of which I was one are serious about their choice of shoes. Shoe brands spearheaded by Nike have taken advantage of this and suggest that you don't just buy shoes for running but you rotate 3 types, one for daily training, one as a firm trainer and another as a lightweight racer. I'll leave that up to the reader.
Shoes for walking & hiking
As mentioned before both Penny and I have slunk around casually in a cross-trainer type of shoe like a Nike, Asics or New Balance.
For more serious walking and hiking, we wear specifically designed shoes. There is some cross over and I'll be quite happy wearing runners, walking over any terrain.
The only downsides are the fact that I'm mistreating my shoes for running and they are much less resistant to the weather.
Walking shoes are specific. We wouldn't want to affect the integrity of a hiking shoe. They always lasted pretty well. Having said that I happily wear them as comfortable leisure footwear and if stuck at the gym without my Nikes I would be okay with wearing a pair of Merrells hiking shoes (current choice) – might look a bit odd!
Working out shoes
As you can guess by now pairs of general gym shoes get a lot of use in both our households.
Penny tends to go for the trainers with a more reinforced firm midsole, a flatter shoe, less suitable for running but ideal for all the different workout routines and strength training that she was involved with like the Nike Metcon reviewed here.
I, on the other hand, prefer something that is more akin to a running shoe unless I'm not using my old ones. I am still impressed with the Adidas Alphabounce which I don't mind running in (or walking) if I fancy a spell on the treadmill. Otherwise, they're a good all-round trainer. For a review of the shoe.
So there we have it
There's an athletic shoe design for just about every sport and activity ever invented and more; shoes for tennis, triathlon, tiddlywinks, weightlifting, wrestling, wood-chopping, bowling, badminton, ballet, cross-country, kabaddi, Quidditch – well, you get the idea. (I'm not sure of some of these).
However, a good pair of general purpose shoes can be used for multiple activities as well as looking good and often colorful as a casual sneaker.
But if you are a dedicated sports person like a super keen runner or mad for table tennis then it's best to get all the suitable gear including the appropriate footwear for that activity.
Penny and I love all the training shoes in all their infinite variety. They make them so comfy these days. What do you think and what are your favorite running, walking or training shoes?
We have many more athletic shoe related articles to peruse.